Introduction to Primary 3 English composition
Moving up from Primary 2, one will immediately notice that the Primary 3 English composition writing format is markedly different.
Today, we will talk about what the main rules are for the Primary 3 composition format and why it is important to take note of the rules.
3 Key Rules
As this format is rather different from the 4-pictures writing format in Primary 2, many young writers often overlook the title.
However, the title is the most important part of the story as it states the main character of the story.
So the very first step is to read the title first.
Example 1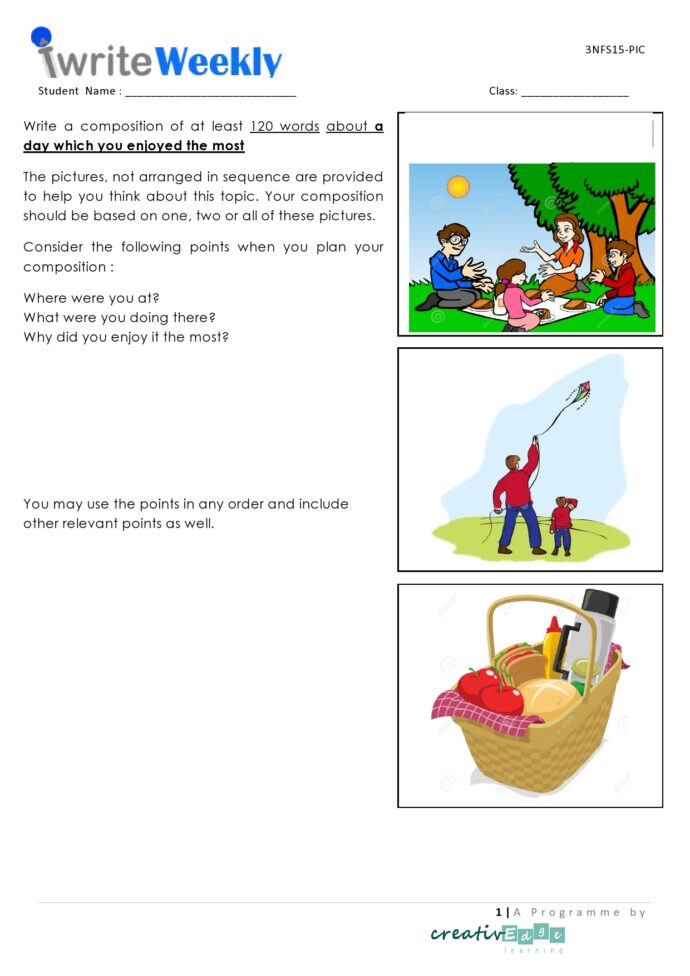 The main character must be "I" as the title states "you".
Pupils should also note that by default, "I" should be a child in the story.
Example 2
Since there is no "You" or "I" in the title, the following main characters are acceptable:
The main character can be "I"
The main character can be written from the third person perspective – "Tom" or "Jane".
It is a must to write the main character as according to the title. This shows that the pupil understands what the story should be about.
Every story should have a conflict (main problem).
Although the three pictures do not look connected, pupils should fear not.
Often, one of the three pictures will either show the conflict or provide a clue to the conflict.
Example
Picture 2 clearly shows the conflict of the story – the main character was caught in the the rain while on his way to school.
Primary 3 composition writing requires pupils to expand the story and create more content as compared to Primary 2 writing.
Young writers greatly benefit from a writing a structure.
The narrative story structure ensures that pupils write according to the appropriate structure and meaningfully expand the necessary parts of the story.
---
We consistently reinforce writing as according to the Primary 3 English composition format in our Primary 3 writing and English classes. Call us to find out more about classes today.